A storytelling podcast for lovers of tales.
Welcome to my storytelling podcast!
Deep in the Dark Forest is a podcast of stories featuring new adaptations of fairy tales and folk tales from around the world. Some famous, some rare, and some brand new. From authors old and young, and tellers of tales just starting out. All read by writer and audiobook narrator CC Hogan.
Each episode features one or two stories, a bit of chatter about stories and authors, the occasional poem and of course any nice things you send me. All stories feature original music. You can listen in any order you please! 
Please comment on Twitter and Instagram using #deepinthedarkforest, or say something on my Facebook page.  Links in the footer of this site.
Subscribe to Deep in the Forest now on your favourite service, and why not sign up to our newsletter?
New Episode: Little Brother & Little Sister
When two children run away from their nasty stepmother, little do they realise that she is a witch. Soon the brother is turned into a deer and his sister must find a new place for them to live.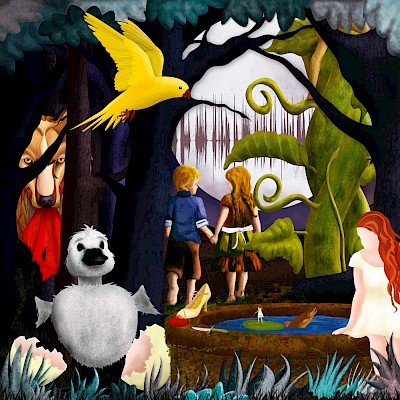 The Story of my podcast. How am I doing So Far?
Sunday, 19 January 2020
Eight episodes later, and still going strong. But what have I learned and where am I heading to? It is an interesting question! I think they are getting better. I hope they are...